Considered as a classic among confectionary aficionados, 3 Musketeers chocolate is a treat that will truly delight both young and old!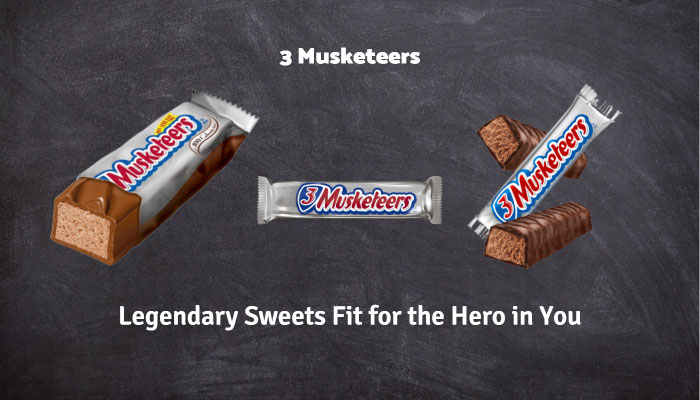 The Start of the Legend: From Mars Comes Some Tasty Chocolate Treats!
Created by chocolate giant, Mars, way back in 1932, 3 Musketeers continued to be a choice treat through the years. With virtually no changes made on the recipe since its inception (it is that good!), this chocolate treat did have some flavors introduced every now and then.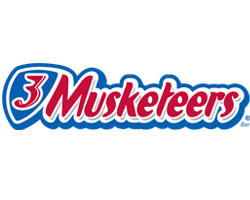 But nothing beats the excellent chocolate flavor that 3 Musketeers is famously known for. From being a staple during Halloween to just being a sweet escape on just about any day, 3 Musketeers is a bar of happiness that assures anyone of smiles!
What's in the Name?
Originally, 3 Musketeers come in three flavors in a single package. And these flavors were chocolate, vanilla, and strawberry. So, 3 flavors = 3 Musketeers!
But because of various logistics and business demands (not to mention, wartime costs into the mix), Mars decided to cut on costs and focus on the most popular flavor. And that move still proved to be successful, with this candy chocolate still being packaged in a single flavor of chocolate.
What's in the Package?
Simple does it for 3 Musketeers. And simple is the equation for one of the tastiest chocolate treats you'll ever have! A milk chocolate bar with a whipped nougat center, each and every 3 Musketeers treat is packed with delight.
How is a 3 Musketeers Bar Made?
Quality is strictly controlled and managed when making a fresh batch of this amazing chocolate. Exclusively made only on select factories (one is found in Newmarket, Ontario, Canada; the others, in the U.S., at Elizabethtown, Pennsylvania, and Chicago, Illinois), Mars definitely wants to retains the unique taste of this treat as close to the original as possible!
The nougat center is made with egg whites. The egg whites are whipped in such a way that the consistency is frothy and light. Next, sugar syrup is added into the frothy egg whites, until it results to a frappe form. Depending on the 3 Musketeers flavor to be made, additional flavoring is included into the frappe mix as well.
The nougat centers are generally cooked into a massive slab. From there, several cuts are made into what's designated for a certain pack. These cut nougat centers now go through an enrobing process – essentially, the way for the outer layer of milk chocolate to coat the nougat centers.
Related Other Americans Chocolate Brand See's Candies: Look Forward to a Brighter Future with these Yummy Treats!
Once cooled, the chocolate is then wrapped. Then we all know where it goes next – our tummies!
Different 3 Musketeers Variants and Flavors to Try Out
Throughout the years, Mars has experimented on what flavors to incorporate in a 3 Musketeers bar. Here are some that you definitely need to try – they're yummy!
---
3 Musketeers Mint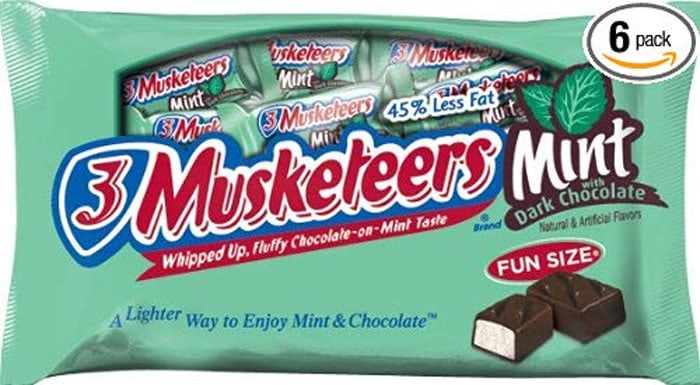 Image Source: amazon.com
Released on 2007, this unique 3 Musketeers variant replaces what the original release has with some unique and wonderful ingredients. Instead of milk chocolate, this uses dark chocolate instead. And instead of the whipped nougat center, a mint filling now completes the package. A unique and classy alternative if you want something else and more in enjoying products from this awesome brand!
---
3 Musketeers Cherry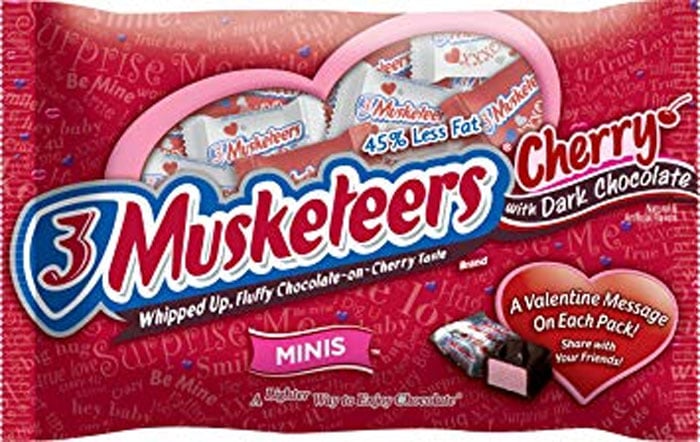 Image Source: amazon.com
Learning from the 3 Musketeers Mint release, the brand experimented further on how to maximize (and improve) its chocolate bar appeal with more flavors. And one fruitful experiment was the 3 Musketeers Cherry. Released on 2008, approximately a year after the 3 Musketeers Mint variant release, this amazing offer replaces the mint with a sweet Cherry flavor!
---
3 Musketeers Raspberry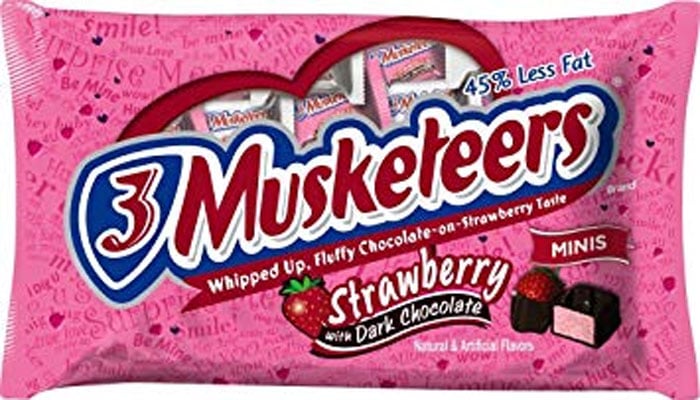 Image Source: amazon.com
Another fruitful experiment, Raspberry now replaces the 3 Musketeers Mint's center.
---
3 Musketeers Orange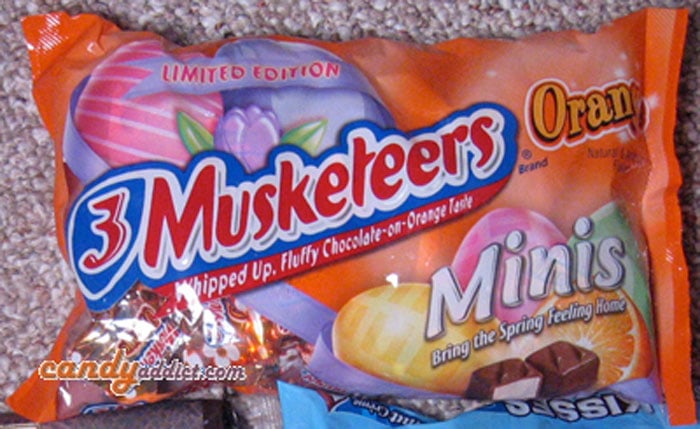 Image Source: http://candyaddict.com
Oranges would now replace the 3 Musketeers Mint variant's center!
---
3 Musketeers Chocolate Strawberry Brownie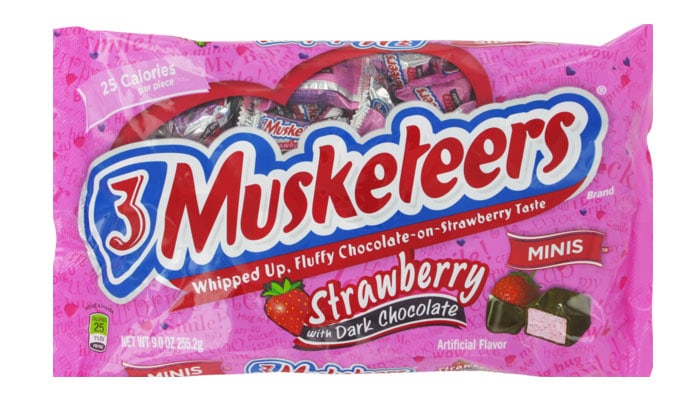 Image Source: instacart.com
Taking the taste experiment even further, this choice now includes a plethora of flavors that results to a gastronomic delight!
---
3 Musketeers Generation Max Chocolate Brownie Bar


Image Source: vendingmarketwatch.com
The Generation Max series is a 3 Musketeers line helps kids have healthier diets. The 3 Musketeers Chocolate Brownie Bar has a higher nutritional value over other Mars products. As such, it is great for kids to chow on (and for health buffs who want to manage their weight propely!).
---
3 Musketeers Generation Max S'Mores Brownie Bar


Image Source: http://candyaddict.com
An alternative to the Generation Max offering above, this variant ditches the chocolate flavoring with some delicious s'mores – a fine and mighty option for dinner, I agree!
---
3 Musketeers Truffle Crisp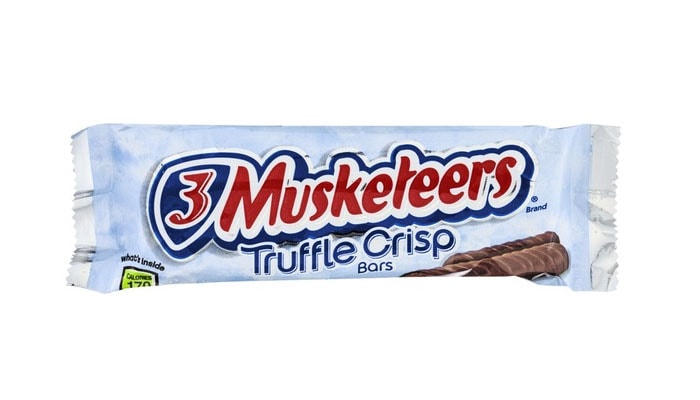 Image Source: instacart.com
Oh, wow. Replacing the whipped nougar center with a new kind of flavor, this variant is attested by chocolate lovers as an exciting treat to eat!
---
3 Musketeers Limited Marshmallow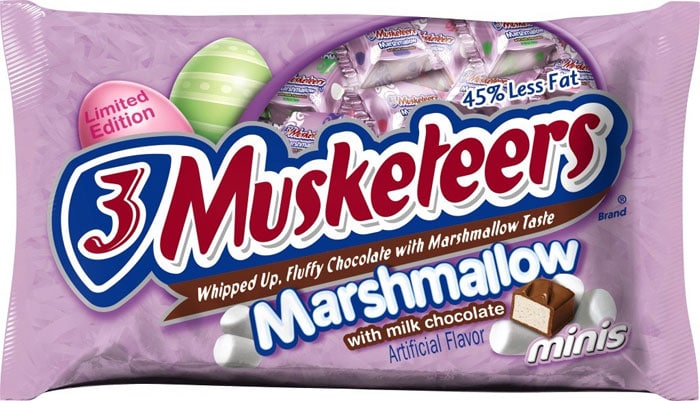 Image Source: amazon.com
To let people know more about on how experimental can get, then check out this treat. A limited edition, awesome marshmallows can be among the best ways to enjoy an-already delectable confectionary product!
---
3 Musketeers Coconut


Image Source: amazon.com
Go nuts over 3 Musketeers releases with this amazing offering. The whipped coconut center brings about images of the tropics – a sweet change to this wonderful chocolate!
---
3 Musketeers Original 3 bar-chocolate
The original release, this bar comes pack with three flavors – chocolate, vanilla, and strawberry. But because of industry demands and wartime expenses, Mars opted to replace this variant with an all-chocolate filling – which is the next in this list! The original 3 Musketeers 3 bar chocolate had been in circulation from 1932 to 1945.
---
3 Musketeers Chocolate with Filling
The legendary bar, which ever since its 1945 inception is still being produced today! Nothing truly beats the wonderful taste experience that the 3 Musketeers chocolate with filling variant delivers!
---
3 Musketeers Autumn Minis
2007 was an awesome year for 3 Musketeers. Aside from the Mint variant, Mars decided to level up 3 Musketeers' presence in the chocolate industry by also releasing this amazing limited edition variant.
Packaged to contain chocolate treats of different premium flavors (French Vanilla, Cappuccino, and Vanilla), this was a confectionary deflight that showcased 3 Musketeers' passion in delivering only the best for its customers!
---
An outstanding candy treat that people from all ages can feast on. Enjoy your 3 Musketeers chocolate today!
Other 3 Musketeers Chocolate Resources:
3 Musketeers on Wikipedia
3 Musketeers Official Website
3 Musketeers on Youtube