Butterfinger Chocolate Brands List
The treat you surely won't let go!
When you hear the word "butterfinger", what comes into your mind? The state of being clumsy or the famous confectionery product? You would probably prefer the latter, right? Speaking of sweets, Butterfinger is among the many chocolate products that were successfully launched and marketed.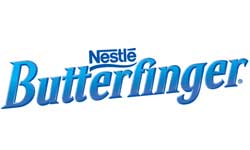 It was the year 1923 when snack bar Butterfinger was invented. Aside from holding a contest what candy name should be chosen, another marketing ploy was used when Butterfinger and Baby Ruth bars were dropped from airplanes in various cities across the continental US. Since then, the candy bar was quickly recognized by the people.
Related Other Americans Chocolate Brand Dove Chocolate Company
A successful marketing strategy is not the only reason why Butterfinger candy bar was immediately liked by many consumers. The unique concoction of the bar that consists of peanut butter-tasting flaky orange-colored center covered with compound chocolate is what really captured the hearts of the people.
Here is the full list of Butterfinger flavors, sizes and variants:
Butterfinger Candy Bars (36pcs.): $18.00 – $28.00
Butterfinger Snackerz: $21.00
Butterfinger Candy Bars Fun Size (25lb.): $120.00
Crushed Butterfinger Candy Bars (3lb. Bag): $30.00
Butterfinger Chocolate Peanut Butter Candy (24pcs.): $20.00
Butterfinger (36pcs.): $25.00
Butterfinger King Size (18pcs.): $31.00
Butterfinger Crisp King Size (18pcs.): $37.00
Butterfinger Crisp (24pcs.): $24.00
Here are some types of Butterfinger chocolate brands list that you might need:
Butterfinger – Original
Butterfinger – King Size
Butterfinger – Giant
Butterfinger – Fun Size
Butterfinger – 6 Pack
Butterfinger – Minis
Butterfinger – Snack Pack
Butterfinger Peanut Butter Cups – Single (2 Cups)
Butterfinger Peanut Butter Cups – Share Pack (4 Cups)
Butterfinger Crisp – Original
Butterfinger Crisp – 6 Pack
Butterfinger Bites – Stand-up Bag
Butterfinger Bites – King Size
Butterfinger Bites – Fun Size Concession
Please be reminded that the prices of Butterfinger chocolate brands listed above may not be the exact prices upon purchase. If you want to get the best deals, you may visit some online stores giving cheap deals. There are also websites that give out big discounts if you will make a wholesale of Butterfingers products. For more information about this product, you can dial the phone number posted on this page or you can also email the Nestle company.

Photos of Butterfinger different types of chocolates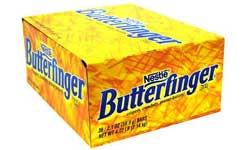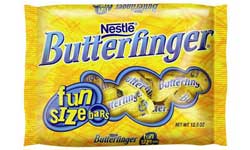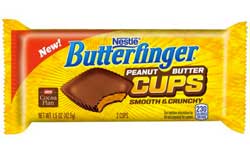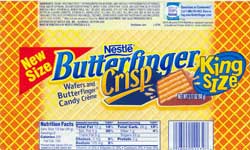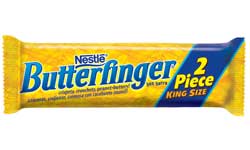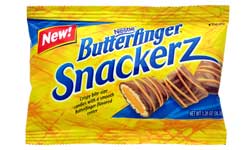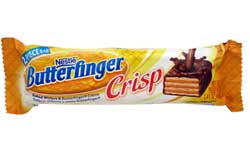 Trivia:
Although Butterfinger is pretty much successful in all its product marketing, some of the products were not as lucky as the existing Butterfinger treats nowadays. Some of the discontinued products are: Butterfinger BB's, Butterfinger Ice Cream Bars and Butterfinger Ice Cream Nuggets.
Official Website of the Company: