Ritter Sport is a German chocolate brand from the Alfred Ritter GmbH & Co. KG. Company. They are currently headquartered in Waldenbuch, Germany.

They are famous for their 100-gram square-shaped chocolate bars which are cut into 16 smaller squares in a four-by-four pattern. They introduced a new cut with 9 smaller squares in a three-by-three pattern in 2013. They also offer big chocolate bars in 250 grams and also small ones weighing only 16.5 grams.
It all started in 1912, when newly-wedded couple Alfred and Clara Ritter opened a chocolate factory based in Stuttgart-Bad Cannstatt. The factory then created a new chocolate brand they they named "Alrika". They needed an expansion in 1930 so they moved to their long-running factory in Waldenbuch.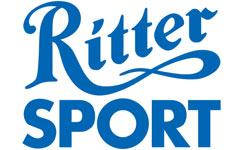 The famous square chocolate bar today was actually launched in 1932 and was called the Ritter's Sport Schokolade. The purpose of the square shape is to be able to have it fit into every sport jacket without actually breaking or crumbling. In 1990, they started the projects Ritter Solar, which aims to help in the building of solar thermal products and systems, and the Cacaonica, which gives support on the agriculture of organic cocoa in Nicaragua.
Official Website of the Company: