Joy comes in different forms, colors, and shapes. And when it comes to bringing happiness, especially for children, nothing comes closer to nirvana than products from the excellent and yummy brand Kinder Joy.

As with all brands of chocolates that specialize in bringing in gastronomic delight, Kinder Joy has a unique edge that trumps its competitors. With the brand's focus on bringing delight for children, Kinder Joy has successfully captured a large market.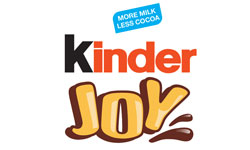 Apparently so, that with 50 years and growing of introducing joy for kids (and adults alike), this is one kind of chocolate treat that will truly bring a smile on one's face!
As such, we are definitely more than happy to be writing about this brand. A favorite among a large group of people, if not only for the delicious treats they bring but also for the wonderful toys they are packaged with, Kinder Joy will always be a chocolate staple among kids of all ages (and yes, we do sometimes consider us adults as children too!).
The Kinder Joy Chocolate Story
Created by chocolate giant Ferrero, Kinder Joy was meant to provide a fun twist to cater to an important demographic in the sweets industry – kids. Additionally, and by following the brand's dream of not only providing tasty treats, Kinder Joy chocolates aim to build and foster positive family values. As such, these treats do mean a lot for both the company and consumers alike!
And success did show as early as its launch. Every single detail of a Kinder Joy has been well-thought of. With its egg-shaped form (as to allow even young children to firmly grab hold on to the treat), carefully sourced-out ingredients, and of course, the toys that come in every chocolate, Kinder Joy will definitely be a mainstay when it comes to wonderful family bonding experiences!
FYI: Ferrero originally dubbed these special line of chocolates as Kinder Surprise. 2001 was the start of the Kinder Joy name – expressing the success and expansion of the chocolate expert to reach out to more children in the world!
Yummy Chocolate Surprise
And since it is a Ferrero creation, only the best can be expected from Kinder Joy chocolate products. Quality is of the highest quality for these treats – especially so since children are the main consumers of this brand. Here are some important facets that Kinder Joy made sure to take into consideration:
Packaging – protecting and preserving both the toy and the chocolate is important in not only high-standard taste. Kinder Joy invested a lot of research, time, and passion into creating a fun and durable chocolate packaging that will appeal children – and at the same time, assure any consumer of a fresh and memorable treat.
Every ingredient of Kinder Joy treats have also been carefully researched to bring out the happiness that kids and families deserve.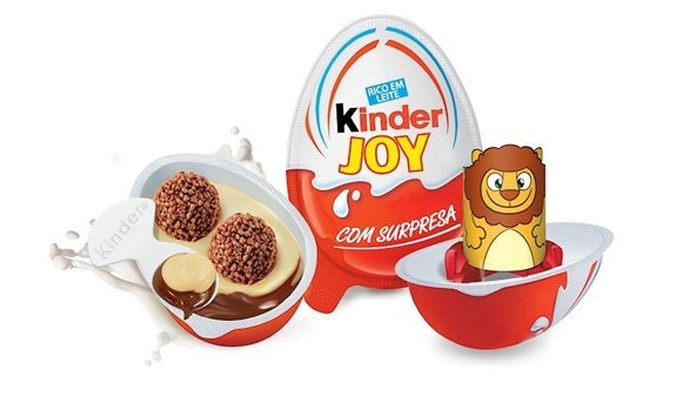 Image source: indiamart.com
Cocoa – Kinder Joy makes sure to source out its cocoa from the best suppliers (which comes from Ecuador and West Africa). Only cocoa from the main harvest from these suppliers are used for the chocolates, to retain that unique taste that Kinder Joy is known for.
Milk – Ferrero uses a wide variety of milk for its chocolate products. For pasteurized milk, this type goes through a strict process to retain freshness. Powdered milk includes an extra layer of security to secure the freshness factor. Additionally, for strict quality control, Kinder Joy only has 30 trusted dairies located in key spots around the globe to source out milk.
Wheat – two forms of wheat are primarily used in Kinder Joy products: wheat flour and wheat germ. Both forms are essential components in creating that unique chocolate flavor; hence, the strict process in only getting the fresh wheat from suppliers is followed.
Fats – focusing on health concerns, Kinder Joy makes sure not to include hydrogenated fats for its products. As such, Kinder Joy has employed expert technicians to determine the right form (and content) of fat is used during the production phase of the chocolate treats. Only palm oil, sunflower oil, and sal butter are used as fat content for the chocolates.
Sugar – Kinder Joy makes sure to only source out sugars from NON-GMO suppliers. This not only assures consumers that natural components are available on each product – helping out these suppliers is a great motive for Kinder Joy to support these hardworking individuals!
Malt Extract – an important piece in the Kinder Joy recipe, malt extract helps bring out the wonderful taste and aroma of each chocolate. Only suppliers that follow the traditional method of extracting malt are sourced out by Kinder Joy.
Kinder Joy Price Range
Price do vary depending on the region, but Kinder Joy products remain to be one of the most affordable (yet also tasty) chocolate wonders in the world! This, of course, still translates to building up great family values by making the chocolate an accessible delight!
The Wonderful Kinder Joy Toys Line
Kinder Joy Toys are specially built to be simple yet fun delights! In as well that the brand has tons of toys to give out, children are definitely in for a treat – the anticipation of what's in the egg-shaped chocolate is surely a thrilling experience!
The Kinder Joy Cartoon (Youtuber Appeal!)
Given the joy of both the tasty chocolate and opening to see what's inside the treat, unboxing videos on popular video site Youtube commonly make use of Kinder Joy products. There is this satisfying feeling of just finding out what's in store a Kinder Joy egg!
Kinder Joy Side Effects – Happiness in Your Hands!
And that joy that one feels from simply thinking what kind of surprise is in store for him or her is a definite and positive side effect that only Kinder Joy chocolates can provide! Not only children enjoy these treats – adults (children at heart!) aren't immune from the warm and fuzzy feeling from these chocolates!
Kinder Joy is truly a wonderful chocolate that not only kids can enjoy – there's no stopping adults from indulging themselves with these surprises! Hope you enjoy your yummy treat today!
Other Kinder Joy Chocolate Resources: