Perhaps one of the most popular chocolate creations in history, Snickers continues to offer some of the tastiest treats for people worldwide!

How it All Began
Snickers was created by chocolate giant, Mars, way back last 1930. Actually named after the Mars' family favorite horse, the chocolate was originally named Marathon. It was only during the 90s when the brand decided to name the treat as Snickers, to stay in line with the UK market.
No matter the name, Snickers is primarily known for its chewy chocolate wrapping a creamy caramel nougat center filled with nuts as well!
Basic Snickers Ingredients
The original Snickers chocolate bar makes use of these ingredients:
Milk chocolate (the sweet type)
White sugar
Peanuts
Corn syrup
Malted milk
Condensed milk (mixed with sugar)
Egg whites
Coconut oil
Salt
Come 2019, Snickers refined the recipe for a taste buds explosion. The ingredients used during the refinement are:
Skim milk
Peanuts
Salt
Egg whites
Talia
Palm oil
Sugar
Corn syrup
Lactose
Artificial flavoring
Milk chocolate (refined using cocoa butter, skim milk, sugar, lactose, chocolate, soy lecithin, milkfat, and artificial flavoring)
Expect only superior chocolate goodness on each Snickers bar!
Snickers Products to Delight You
Here are some of the most popular Snickers variants that have brought smiles all over the world!
Snickers and Hazelnut

Image Source: amazon.co.uk
Enjoy the amazing Snickers chocolate delight with some Hazelnuts! It's an impressive and unforgettable combination that will surely make you smile. Comes in two variants: single bar or 2 to go!
More About Snickers and Hazelnut on marschocolate.com
Snickers Almond

Image Source: candywarehouse.com
Almonds are also a wonderful inclusion for any Snickers bar! The crunchy sensation (coupled with the creamy caramel center) works wonderfully well with almonds! Enjoy this amazing taste experience in different excellent packaging variants: fun size (choose between 6 or 12 pieces of amazing Snickers Almond bars), the laydown bag choice, minis sharing size pouch, single bar, single 6 pack, 2 to go variant, and the minis small peg pack!
More About Snickers Almond on marschocolate.com
Snickers Bites

Image Source: amazon.com
Transform the amazing Snickers taste experience by simply going for a different way to enjoy it. What a difference a size makes – changing chocolate bars into bite size versions can introduce a new and wonderful experience! Choose among four different packaging variants to enjoy these chocolate bites: the grab n go pouch, the share size bag, the family size pouch, and the sharing size pouch!
More About Snickers Bites on marschocolate.com
Snickers Crisper

Image Source: hereforagooddeal.com
Want an even more crispier way to enjoy your Snickers chocolate bars? Have all the ingredients that make this treat wonderful packed together with some crisp rice! The result: an outstanding snack that will make you crave for more! This Snickers Crisper snack comes in these packaging variants: 4 to go, fun size (choose between 6 or 12 bars of Snickers Crisper), and the fun size laydown bag variant!
More About Snickers Crisper on marschocolate.com
Snickers Crunchy Peanut Butter

Image Source: allsortsofsweets.ie
Get the crunch you need when you go for your Snickers chocolate bar treats! This amazing mix of Snickers and yummy peanut butter will make you bite for more! The Snickers Crunchy Peanut Butter is available in these packaging variants: 4 to go, fun size medium laydown bag, fun size large laydown bag, and the amazing single bar!
More About Snickers Crunchy Peanut Butter on marschocolate.com
Snickers Original

Image Source: dollargeneral.com
The original will always be one of the best! The Snickers Original Chocolate bar is made with the best roasted peanuts, caramel, milk chocolate, and amazing nougat. The simple yet perfect balance of these ingredients results in unforgettable snacks!
Snickers Original is available in these packaging variants: 100 calorie single bar, 2 to go, fun size packs (choose between 6 or 12 bar pieces), fun size laydown bag (choose from medium or large bag sizes), minis laydown bag, minis peg pack (small and medium sizes), minis sharing size pouch, minis family size pouch, minis party size pouch, single bar, single 10 pack, single 6 pack, and slice 'n share!
More About Snickers Original on marschocolate.com
Snickers Peanut Butter Crisper

Image Source: amazon.com
The Snickers and peanut butter combination, as mentioned above, is one really tasty treat. But including crisp rice into the mix transforms this snack into something heavenly! Enjoy the great taste sensation of peanut butter, crisp rice, and the amazing Snickers chocolate combination on every bite on this bar. The Snickers Peanut Butter Crisper comes in one packaging variant: 4 to go!
More About Snickers Peanut Butter Crisper on marschocolate.com
Snickers Variety

Image Source: amazon.com
With all these amazing flavors and taste combinations, it sure can be hard deciding what Snickers type you should eat! Don't worry, Snickers comes in a variety pack for you to explore which flavor will suit you best! Snickers Variety comes in these packaging variants: minis sharing size, minis family size, fun size laydown bag types (choose from medium and large types).
More About Snickers Variety on marschocolate.com
Snickers Xtreme

Image Source: rebelyelliex.blogspot.com
Can't seem to satisfy your cravings? Need something more than your typical chocolate bars? Well, Snickers Xtreme may just be what you need! Packed with even more caramel and peanuts, this is one tremendous upgrade from the Snickers that you know! Experience something amazing today – the Snickers Xtreme snack comes in one packaging variant: 2 to go!
More About Snickers Xtreme on marschocolate.com
Snickers Ice Cream

Image Source: meijer.com
Go for something cool today. Snickers has also been manufactured in ice cream form! This cool and satisfying ice cream bar treats are made out of really smooth caramel, peanut butter ice cream, peanuts, and an amazing chocolate shell!
Snickers White

Image Source: amazon.com
Everything that you've loved in this amazing snack – with the shell replaced by tasty white chocolate instead! This rich chocolate variant brings a really nice and yummy alternative to the plate!
Snickers Chocolate Candy Tree

Image Source: walmart
Happy holidays! Bring in the joy and cheers during the Christmas Season with this cute limited edition chocolate treat! The yummy delight that Snickers Chocolate Candy Tree brings is what you expect from the brand – only it's packed in Christmas flair to celebrate the season of giving!
Snickers Yard

Image Source: kroger.com
Enjoy your Snickers treats in a different kind of way! Made out of approximately 18 chocolate bars, this unique packaging can satisfy your (and your friends!) craving for some amazing Snickers goodness!
Check out Snickers Chocolate brands list
Have Some Snickers NOW!
Snickers have proven to be one of the best chocolate treats in the world.This product proves that with even simple ingredients, flavor can be maximized – with a long history of satisfying all sorts of people, the future is indeed bright with this chocolate brand!
Snickers Chocolate Brands List
Hungry? You know what to grab!
If you are looking for a chocolate brand that's considered as a heavy meal that will surely save you from an untimely hunger, then pick Snickers chocolate bar. This American favorite has a unique recipe of nougat with ground peanuts, then topped with roasted peanuts with caramel covering and then wrapped in thick milk chocolate.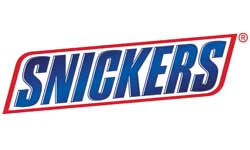 Now that's something heavy, right? No wonder it's ad says "Hungry? Grab a Snickers" because you can pretty much handle everything after eating this snack bar.
Related Other Americans Chocolate Brand Twix chocolate flavors
It was the year 1930 when the Mars family marketed the second chocolate product which is the Snickers chocolate. The concoction of milk chocolate, nougat, caramel and peanuts makes up for the unique taste of the confectionery product. Craving for one? It would be better to figure-out what flavor and size you should buy first before dashing to the nearest shop.
Here is the full list of Snickers flavors, sizes and variants:
Snickers Bites Pouch
Snickers Sharing Size
Snickers Bar
Snickers 2 to Go
Snickers Fun Size
Snickers Miniatures
Snickers Almonds 2 to Go
Snickers PB Squared
Snickers PB Squared 4 to Go
Snickers PB Squared Fun Size
Snickers PB Squared Miniatures
Snickers Ice Cream bars
Snickers Mini Ice Cream Bars
Snickers Ice Cream Cones
Snickers Ice Cream Brownies
Snickers Eggs
Snickers Egg PB
So here is the list of Snickers products with price:
Snickers Candy Bar (48pcs.): $36.95
Snickers Fun Size a(2lb./Bag): $13.45
Snickers Candy Bars Fun Size (90pcs.): $22.50
Snickers Minis (50oz./Bag): $15.99
Snickers Dark: $20.99
Snickers Mini's (128pcs.): $15.45
Snickers Almond (24pcs.): $16.80
Snickers Dark (24pcs.): $24.00
Snickers Peanut Butter Squared: $17.99
For more information about the brand, you may visit Snickers' main website. You may also contact them via phone call or email if you have other concerns or suggestions. What are you waiting for? Grab your Snickers now and get rid of that craving!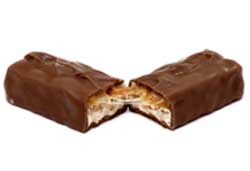 Photos of Snickers different types of chocolates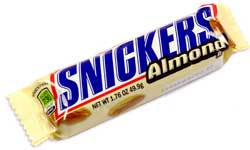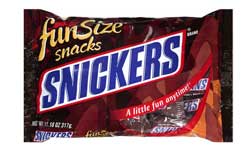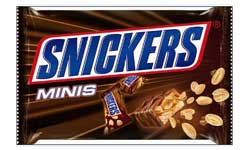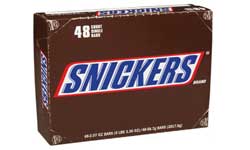 Trivia:
Did you know that Snickers chocolate was named after the Mars family's favorite horse? Back then, the chocolate was sold for only a nickel! Currently, Snickers' global sales reached $2 billion. Unlike in the United States, the brand Snickers is most commonly known as Marathon in countries like UK and Ireland. Snickers brand is also known for its hilarious advertising campaigns all over the world.
Other Snickers Resources:
Snickers Official Website
Snickers on Wikipedia
Snickers on Facebook
Snickers on Twitter
Snickers on IG
Snickers on Youtube