Enjoy a crunchy and creamy chocolate delight today. Twix Chocolate is a biscuit confectionary made by Mars Incorporated to make you smile! It has that satisfying and crispy crunch of a cookie that goes really well with the chocolate and caramel fillings all blended together!

Flavorful Beginnings
With its origins stemming from the United Kingdom during the late 1960s (its orignal name is Raider), this yummy delight slowly made his way a decade later towards the United States (approximately during 1979). Seeing the impressive following this chocolate has among all sorts of customers, its manufacturer decided to rebrand it towards a friendlier angle. Come 1991, the treat changed its name to Twix (which was actually a wordplay of twin sticks).

This chocolate continues to delight tons of followers, mainly with its numerous flavors incorporated into the base confectionary!
Twix Chocolate Flavors that You Ought to Try!
This chocolate brand has tons of flavors to choose from! Here are some of the very best that you really need to taste – these are really amazing! And a bonus with these treats is that they're made out of left and right twin variants – a great mix that results in memorable experiences.
Twix Milk Chocolate Bites

Image Source: marschocolate.com
These bites, which come in 8.7 oz, 4.5 oz, and 2.83 oz packages are an amazing taste explosion. The twin sticks of delight are made out of really yummy and chewy caramel, a crunchy and delectable cookie, and a really smooth blend of chocolate. Bring in the fun with these bites!
More About Twix Milk Chocolate Bites on marschocolate.com
Twix Caramel Cookie Bars

Image Source: marschocolate.com
With an option to get these delightful chocolate bars in pack combinations of six and twelve or in a fun size variant of 10.83 oz, the Twix Caramel Cookie Bars allow more gastronomic moments with a bigger size to chew upon!
More About Twix Caramel Cookie Bars on marschocolate.com
Twix White Chocolate

Image Source: marschocolate.com
Here's another exciting way to enjoy your Twix treats. Get everything that makes it amazing and replace the choco part with white chocolate! To level up the taste experience, the cookie portion of this treat is the amazing and delicious shortbread mix that has that outstanding crunch.
More About Twix White Chocolate on marschocolate.com
Twix Dark Chocolate

Image Source: marschocolate.com
Bring in some style in both presentation and taste with this Twix flavor variant. With dark chocolate as the highlight, a richer and bolder taste is stored for more people to enjoy!
More About Twix Dark Chocolate on marschocolate.com
Twix Ice Cream Bars

Image Source: marschocolate.com
Here's a cooler and tasty way to enjoy this confectionary! Enjoy amazing Twix chocolate bars swirled and twirled with creamy and refreshing ice cream! The perfect snack to enjoy when you need a pick-me-up or want to celebrate special moments in your life!
More About Twix Ice Cream Bars on marschocolate.com
Twix Peanut Butter

Image Source: marschocolate.com
Mix some really yummy peanut butter in the great balance of cookie and milk chocolate to get this great Twix flavor variant! It's a taste that will make you want to eat more!
More About Twix Peanut Butter on marschocolate.com
Twix McFlurry

Image Source: mcdonalds.ie
Seeing just how amazing the chocolate's appeal is, McDonald's actually partnered with the brand to create the delicious Twix McFlurry variant. The demand for this snack is so great – the fast food joint actually brings this choice back to its menu every now and then!
Gingerbread Twix

Image Source: candywarehouse.com
This chocolate brand also made sure that the holidays can be enjoyed in an extra special manner. A seasonal release, the Gingerbread Twix replaces the caramel portion with some excellent gingerbread infusion flavor. The result? Even much more cheers to enjoy during that special time of the year!
Cookies-n-Creme Twix

Image Source: target.com
This flavor variant has the cookie portion with a tasty combo of wafer and creme filling! It's a really tasty combination that everyone will enjoy.
Chocolate Fudge Twix

Image Source: facebook.com/ChocolateFudgeTwix
Enjoy double the choco delight with this variant! Released during the early 90s, the brand experimented replacing the caramel filling with another batch of chocolate! It's actually one of the best flavor variants the brand has created – it is quite puzzling why it was discontinued!
Choc 'N' Orange Twix

Image Source: pinterest.ph
A really rare release! The brand tried out how it'll be when some fruity flavor has been injected into the chocolate bar! Whatever the case, it's an intriguing take on how chocolate can be enjoyed!
Twix Java

Image Source: candyfavorites.com
Get that jolt you need! This variant infuses some espresso into the fine Twix chocolate combination blend!
Twix Mint

Image Source: theverybesttop10.com
Have a cool breeze with this intriguing flavor variant! The Twix Mint was a limited release last 2001 – it sure was an interesting flavor combination to consider choosing mint in this great confectionary balance!
Twix Top

Image Source: amazon.co.uk
The brand also experimented in taking out the popular twin stick form of its chocolates. Dubbed as the Twix Top, this variant is a single layer of flat chocolate that combines the awesome ingredients of conventional Twix releases. And its an amazing creation, that continues to be rereleased every now and then!
Twix Coconut

Image Source: candygurus.com
Another rare release, this flavor variant infuses some tasty coconut into the blend!
Twix Super Thick Shake

Image Source: foodstufffinds.co.uk
Enjoy a cool and satisfying treat with this milkshake! By converting the bars into milkshake forms, a new level of satisfaction is created!
Twix Topix

Image Source: flickr.com
Instead of biscuit, enjoy a wafer bite with this variant! Twix Topix comes in three awesome flavors: creamy caramel, macchiato, and milk cream.
Twix Pods

Image Source: bigw.com.au
Round it up for another different and amazing taste sensation. This flavor variant has the conventional Twix blend of ingredients in a round shell of biscuit instead!
Triple Chocolate Twix

Image Source: delish.com
For an even massive chocolate eruption, go for this flavor variant. The Triple Chocolate Twix has a caramel filling infused with chocolate flavoring, a chocolate cookie base (instead of butter), and of course, the amazing and smooth chocolate blend found in Twix bars.
Mint Slice Billu Twix
As a limited release in Australia, this interesting take on a mint Twix also integrates a dark chocolate coating.
Twix Milk

Image Source: today.com
As one of the latest releases from the confectionary company (this was just last 2019), Twix Milk is essentially chocolate milk packed in cool plastic bottles. These drinks actually go really well with the chocolate treats!
Enjoy Twix Today
These are chocolate creations that will really make you smile! Make sure to get hold of a fresh batch of Twix chocolates today!
Twix Chocolate Brands List
A treat with a twist
Some people are just not fond of eating plain chocolates no matter how tasty these can be. Do you love chocolate bars concocted with other special ingredients? How about eating a crunchy cookie topped with caramel and then covered in rich and creamy chocolate? If you're on a diet, this might sound tempting, right? To heighten your craving for chocolate bars, keep on reading this review about the famous Twix chocolate bars!
Related Other Americans Chocolate Brand Full list of Pearson's Candy Company Chocolates
Everybody just loves Twix whether it's the original version, the peanut butter or Twix ice cream bars. It's undeniably true that this another creation of Mars Inc., captured the hearts of many chocolate-lovers not only in the US but also in various countries. The plain taste of cookie complements with the sweet caramel topping and the chocolate covering is just a perfect combination to come up with a unique crunchy yet soft chocolate bar. Planning to buy a box of these treats?
Here is the full list of Twix flavors, sizes and variants:
Twix Coconut (America)
Twix Fino (Europe)
Twix Cappuccino (Poland and Belgium)
Twix Java (United States)
Twix Super Thick Shake (Ireland and UK)
Mint Slice billu (Australia)
Twix Topix (United Kingdom)
Twix Pods (Australia)
bisc& Twix Top Choco (Europe)
bisc& Twix (UK)
Coffee Twix (Asia)
White Chocolate Twix (USA and UK)
Dark Chocolate Twix (US)
Orange Twix (Poland)
Ice Cream Twix (Pot)(Europe)
Twix Mint (United Kingdom)
New Twix (USA)
Twix 100 Calorie Bars (USA)
Twix Top (United Kingdom)
Chocolate Ice Cream Twix (Bars)(United Kingdom)
Ice Cream Twix (Bars)(United Kingdom, USA)
Twix Xtra (United Kingdom)
Choc 'N' Orange Twix (United Kingdom)
Triple Chocolate (United Kingdom, Australia)
Chocolate Fudge Twix (USA)
Cookies-n-Creme Twix (USA)
Twix Miniatures (Europe)
Twix Tea Breaks (United Kingdom)
Twix PB (USA)
Peanut Butter Twix (USA)
Gingerbread Twix (Seasonal)
Twix McFlurry
Please be reminded that the list of Twix chocolate prices mentioned above are not accurate. Rates depend on the location and the store itself. If you are going to wholesale Twix chocolate bars, it would be advisable to have an online purchase. It will give you less hassle in buying your favorite confectionery.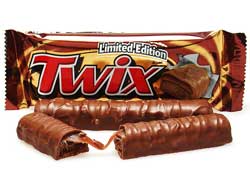 Photos of Twix different types of chocolates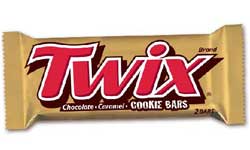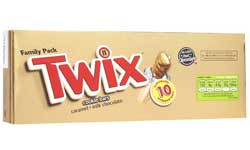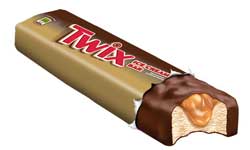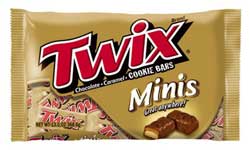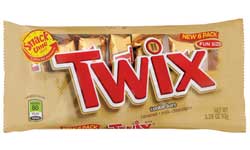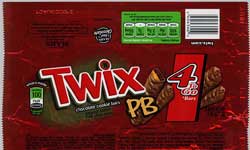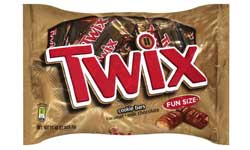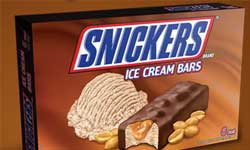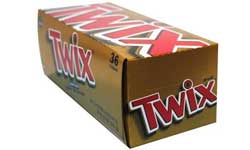 Trivia:
Did you know that one of the funniest television advertisements about Twix was from South America? In the scence, there was a man who decided to consult a psychiatrist's help because of saying 'Caramelo' (Caramel) eversince. In the waiting room, the man met two other men who kept saying 'bisoito' (biscuit) and 'chocolate' (chocolate). Soon enough, the three became good friends and they invented the word 'Twix' which represents the combination of the three words.
Official Website of the Company: