For the best candy roll and tablet in the country, go only for the best and smart choice – Smarties! These yummy delights may just be one of the best tasty creations, ever since it was first launched last 1949. As such, we'd like to put the spotlight on these treats today, with the hope that you'd indulge on these candies soon after!

All About the Smarties Candy Company
It all started with a family, when Edward (nicknamed Eddie) Dee migrated to New Jersey from England. Eddie, with just a rented facility, two candy machines, and pure and true grit, went on to found the Ce De Candy, Inc. company.
Three generations later, and a shift on branding to the Smarties Candy Company (aptly named so because of the family's well-known sweet creation), the Dee family continues to forge on and provide the country with the best in candy rolls in the sweets industry.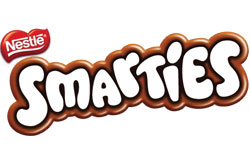 As a matter of fact, those 2 machines that first started production transformed into two massive factories (with a non-stop, 24-hour candy production schedule) located in New Jersey (Union) and Ontario (Newmarket) – with billions of candy tablets, lollipops, and Smarties rolls produced on a yearly basis!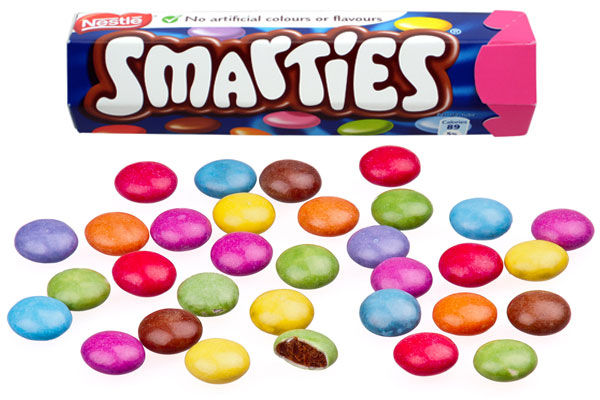 By Evan-Amos – Own work, CC0, https://commons.wikimedia.org/w/index.php?curid=15733034
Key Smarties Ingredients
Here are the key ingredients found on every Smarties roll:
Dextrose
Calcium Stearate
Citric Acid
A blend of both artificial and natural flavoring and coloring (colors are Blue 2 Lake, Red 40 Lake, Yellow 6 Lake, and Yellow 5 Lake)
Additionally, Smarties has a nutrition-focused production – a bold move, considering that it's a candy product! Each classic Smarties candy roll has only 25 calories. This means that those who have a sweet tooth while still being conscious on his or her health won't go wrong indulging on these treats.
Another health-centric factor to consider when eating Smarties products is that all creations from this company are top allergen, gluten free, and peanut free. This just means that those with pesky allergies or individuals diagnosed with Celiac disease can enjoy a Smarties treats – a perfect way to enjoy a candy! And with the mentioned ingredients above, Smarties products are also vegan friendly – another reason for vegetarians to go out and enjoy some sweet delights!
All in a Name: Smarties US, Smarties Meaning
Smarties are sold in the United States and Canada. In Canada, however, Smarties are named as Rockets. This is to avoid confusion with similar products in the market.
Related Other British Chocolate Brand Green and Black's Chocolates: Savor the Richness!
Why the name Smarties? Although the official site gave no exact definition or explanation, it can be assumed that this candy's peculiarities offer a smart take on enjoying a sweet treat. After all, with its nutritional take yet not withholding any loss on taste approach is indeed a smart (and maybe even fun) way to enjoy candies!
What to Expect in a Bag of Smarties
Of course, a smile and a sweet experience! Smarties are available in different variants or forms (and in different bags). As such, we will also list down several packaging options with the highlighted products below.
Smarties Sweets Creations You Should Definitely Try
Here are some of the best candy creations that you should try from the Smarties Candy Company:
Original Smarties
The sweet creation that started it all. Coming in several flavors and colors randomly packed in one bag, these are yummy delights that cemented this candy tablet's name in history.
To give you an idea on the color and flavor combination, let's break it down as stated below:
Orange Color = Orange Flavor
Yellow Color = Pineapple Flavor
White Color = A Combination of Orange and Cream Flavors
Green Color = Strawberry Flavor
Pink Color = Cherry Flavor
Purple Flavor = Grape Flavor
Additionally, Original Smarties are a mess-free creation. These treats won't melt in the heat, which makes these candies a treat for parents to give their kids! For bagging variations, Original Smarties are available in the following options:
5 pound bag (features a case of 6 bags)
3 pound bag (features a case of 6 bags)
1 pound bag (features a case of 12 bags)
14 ounce bag (features a case of 12 bags)
5 ounce bag (features a case of 12 bags)
Bulk orders (features a case of approximately 2,350 candy rolls)
Bulk orders (features a case of approximately 27,000 unwrapped tablets)
Smarties Love Hearts
Candy wafer rolls that come in an alluring and colorful theater box packaging. A yummy delight to have while watching a blockbuster movie! These sweets are available in the following options:
Case of 12 (6 ounces each) boxes
Case of 12 (3.5 ounces each) boxes
Smarties Pops
Smarties also has its own delicious lollipop line. These pops are available in these packaging options:
Case of 6 jars (120 wrapped pops per jar)
Bulk Orders (a case of 2,000 wrapped pops)
Giant Smarties
Satisfy your Smarties cravings by going for a gigantic option. Bigger than conventional Smarties, these treats offer the classic flavors in even larger sizes! Just perfect for those with a massive sweet tooth! Giant Smarties rolls are available in this packaging option:
Case of 16 boxes (36 rolls per box)
Tropical Smarties
Up for something different when it comes to flavor? Tropical Smarties come in fruity and tangy flavor for an experience that you'll definitely savor! Tropical Smarties is available in this packaging option:
Case of 12 bags (5 ounces per bag)
Big Question: Smarties vs M&Ms, Smarties Chocolates
Similar candy tablets, yet both candies having unique taste qualities. No clear winner for this case – both choices are definitely a wonderful taste delight that everyone should experience. But why doesn't the Smarties Candy Company create their own chocolate? Perhaps it all boils down to the adage, if it ain't broken, don't fix it! As far as we can tell, Smarties candy tablets and rolls work!
Enjoy a Smarties treat today! You just need a smart and excellent way to enjoy candy – and this option definitely offers you a reason on why you should head on out and enjoy something sweet!
Other Smarties Chocolate Resources: