Kit Kat Chocolate Brands List
A Sweet "Break" for Everybody "Have a break, have a Kit Kat."

Almost everybody who loves chocolates will probably recognize this famous ad line by the world famous confectionery, Kit Kat. Of course, the taste of the food itself is what made Kit Kat famous not only in the United States but all over the world too. If you're a chocolate fan, then there's a big chance that you know how tasty this chocolate-coated wafer treat is.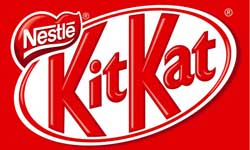 Kit Kat is a kind of chocolate confection that was established in the 1930s by the Rowntree's, a confectionery company. Since then, the product did not leave chocolate stores and Kit Kat continued to gather a lot of loyal customers. However, some issues regarding the taste arose from some customers. There had been complaints that the taste of Kit Kat from the United States and the other Kit Kat products from other countries seem so to be quite different.
Related Other British Chocolate Brand Crunchie chocolates brand
Just to give you an idea, Kit Kat from the US is being manufactured by The Hershey's Company while other products of the said product in other countries is being manufactured by Nestle.
Here is the full list of Kit Kat flavors, sizes and variants:
Kit Kat Milk Chocolate Wafer Candy (12 Bars) – $9.00
Kit Kat White Milk Chocolate Wafer Candy (24 Bars) – $20.00
Kit Kat Extra Crisp Wafers in Milk Chocolate Bar (36/pack) – $35.00
Kit Kat (1.5 oz.) – $1.00
Kit Kat Mini Assorted – $60.00
Kit Kat King Size (24 Ct) – $40.00
Kit Kat Caramel (36 CT per box) – $36.00
Kit Kat Kohaku White & Milk Chocolate (6oz) – $7.00
Here are some types of Kit Kat chocolate brands list that you might need:
KIT KAT Minis King Size
KIT KAT Minis
KIT KAT Milk Chocolate
KIT KAT King Size
KIT KAT Dark
KIT KAT White
KIT KAT Extra Crispy
KIT KAT Snack Size
KIT KAT Miniatures
KIT KAT Assorted Miniatures
KIT KAT Assorted Miniatures Party Bag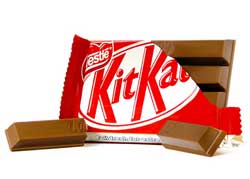 For more information about Hershey's Kit Kat, you may visit the company's main website. If you are a consumer from other countries, you may visit Nestle Kit Kat's main site.
Photos of Kit Kat different types of chocolates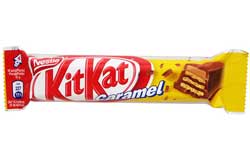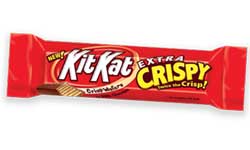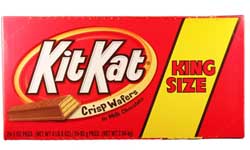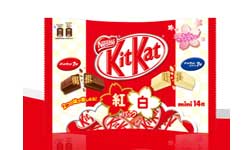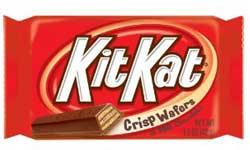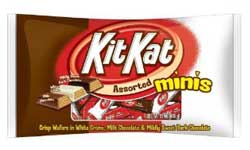 Trivia:
Did you know that there had been a "Golden Tickets" rarely put on some Kit Kat bars on the first three weekends of the famous reality show, Big Brother (Series 7)? If anyone finds the Golden Ticket, he or she will have a chance to become a housemate in the famous show without having to undergo an audition. This process is also similar with the popular movie Charlie and the Chocolate Factory.
Official Website of the Company: