Crunchie is a chocolate bar that originated from Great Britain and is manufactured by Cadbury, one of the top chocolate giants in the world. Crunchie has a honeycomb toffee sugar center and is coated with milk chocolate. Before it was adopted by Cadbury, it was initially launched in 1929 by J. S. Fry & Sons.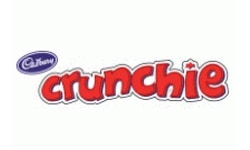 Crunchie has various sizes to choose from, including snack size, which is a small rectangle, the single-serve bar which is the most common one (about an inch wide and 7 inches long with a height of ¾ of an inch), and the king size which doubles the single-serve bar into one bar.
Limited edition Crunchie flavors emerged in 1960 including one that is lemonade-flavored and another which tastes like Tango Orange. The chocolate used was infused with the flavorings. In the New Year's Eve of 1999, a limited edition champagne-flavored Crunchie bar was released in the market.
Related Other British Chocolate Brand Nestle list of chocolate products
A bourbon-flavored Crunchie bar was also released in 2003 to a test market in Nashville Tennessee. This was released in 7-Eleven stores. It was not appreciated due to a boycott done by the western divisions of the Southern Baptist Coalition. The production of the said Crunchie bar was then stopped.
Due to the in-demand taste of the Crunchie bar, ice cream flavors and cheesecakes were made after it. These Crunchie-flavored treats were sold in some countries where the bar was famous in.
A Crunchie Blast was then released in the market in 2006. This was entirely different from the previous flavors because this has popping candy inside the bar. It was also not appreciated in the market so it closed in just short time. After four years, Cadbury formulated a new snack, the Crunchie Rocks – a treat that includes chocolate, Crunchie and cornflakes.
Until now, the classic Crunchie bar is still available in Ireland, Australia, Canada, United Kingdom, New Zealand, and a lot more Asian countries.
Other Crunchie Chocolate Resources: