Feeling the blues? Need something to perk you up, to brighten up your day? Then look no further – skittles chocolate may just be the perfect treat to have today!
The Colorful Skittles History
Produced and manufactured by confectionary giant, Mars Inc., Skittles has proven to a legendary treat in the sweets industry. Given the excellent track record of creating and producing tasty treats, Mars Inc. sure did score a winner with the Skittles brand!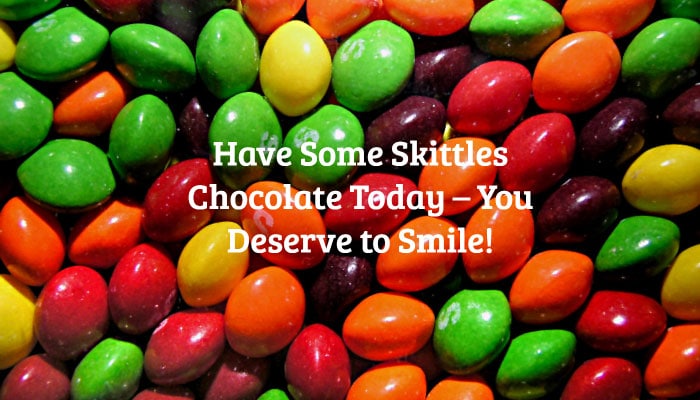 Image Source: By PiccoloNamek, CC BY-SA 3.0, https://commons.wikimedia.org/w/index.php?curid=1103777
But, we do need to give credit where and when it is due. Skittles candies were originally manufactured in the United Kingdom, way past during the early '70s. The bigger boom of this treat was enjoyed when manufacturing started in the U.S. during the '80s, which of course proved to be a hit even as of today.
And not only is the Skittles brand known for its awesome and tasteful flavors. In fact, the hit tagline of the brand, taste the rainbow, proved to be a massive recall among consumers. Given the fact that the colorful treats come packed together with an unforgettable flavor, the Skittles name has proven to be a powerful presence in the candy world.
A Rainbow of Skittles Flavors
Skittles is known to push the envelope on making and introducing more ways to make its name known throughout the years. Through social media campaigns and even getting involved in political and current events, this is one brand that makes sure its presence is felt and stays relevant in the world today.
Even more so is the experimentation on introducing more flavors for more consumers to enjoy. Originally known for its fruit flavored treats, Skittles did expand into other flavors. As a result, a whole new and positive taste experience has been introduced into the world! Some of the most memorable and popular flavors introduced the brand through the years are the following:
---
Licorice Skittles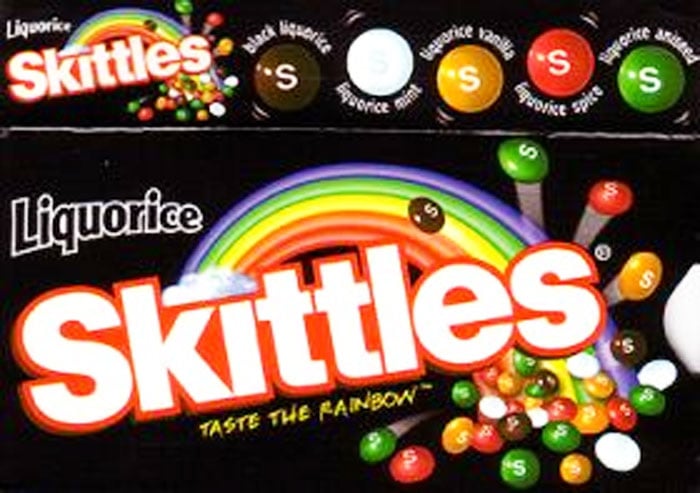 Image Source: http://candyaddict.com
(Europeans got to taste a sweet and spicy take on licorice with this release!)
---
Lime Skittles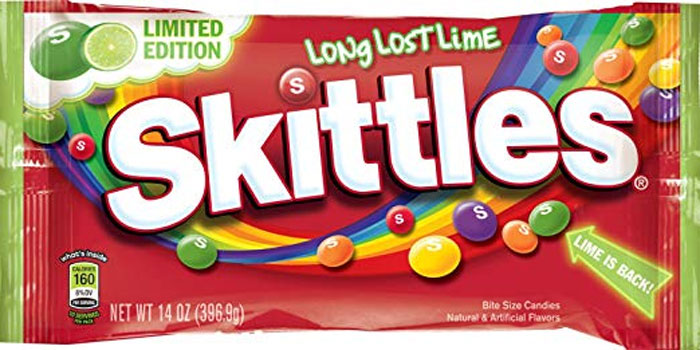 Image Source: amazon.com
(part of the original or classic flavors introduced upon the inception of the treat)
---
Berry Skittles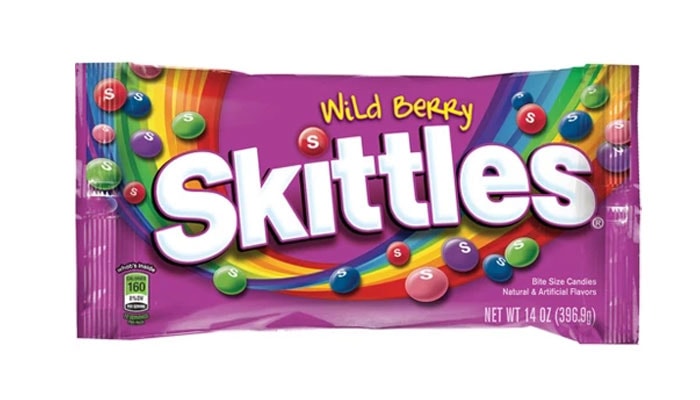 Image Source: target.com
(a whole new berry movement that introduced a very exciting time among candy fanatics! Some popular berry treats that Skittles experimented on were melon berry, berry punch, and raspberry)
---
Chili Skittles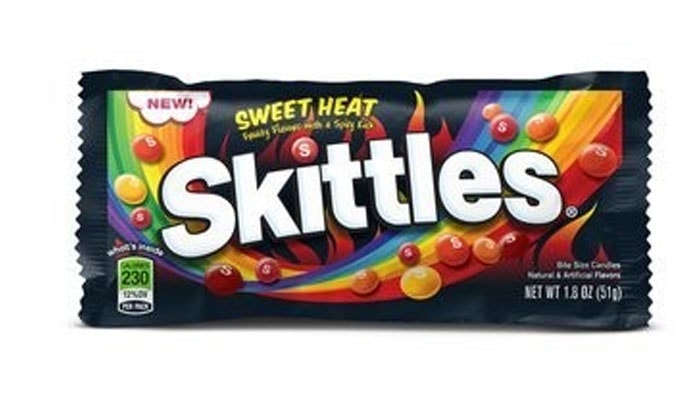 Image Source: funnyjunk.com
(experimenting on taste sensations, who would have known that a hint of chili would be such a delight among Skittles treats!)
---
Skittles Darkside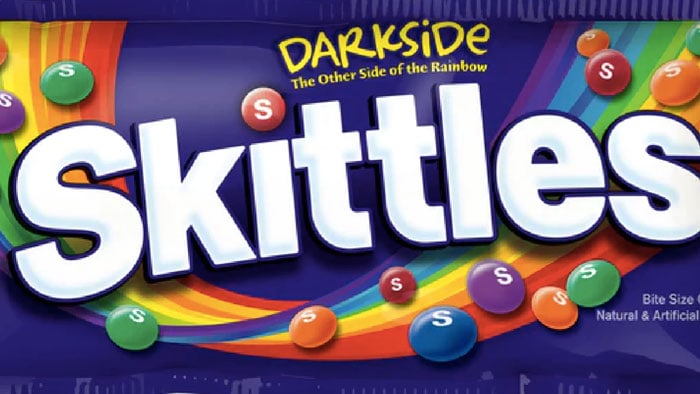 Image Source: bustle.com
(recently introduced, this mix introduces a blend of exotic berry flavors such as midnight lime and blood orange)
---
Fizzy Skittles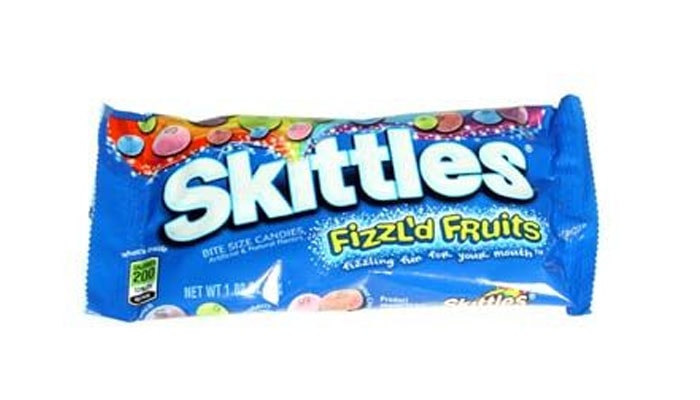 Image Source: candyfavorites.com
(Skittles took a gamble and coated their candy with fizzy powder. The result was amazing! The pop that the fizzy powder made on the soft candy shells opened up new avenues to explore – Fizzl'd Fruits gave classic flavors like wild berry a whole new taste experience for more people to enjoy)
---
Skittle Crazy Cores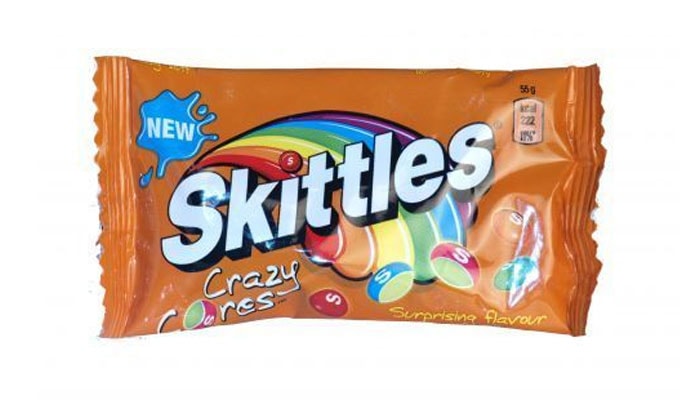 Image Source: clearancexl.co.uk
(if one Skittles flavor isn't amazing on its own, what more if a flavor can transition into another? Skittles introduced Crazy Cores, a concept that combined different shells and cores, which blends and transforms flavors into others. Crazy, perhaps, but a hit nonetheless, with the amazing combinations that made each bite a unique and tasty experience!)
---
Ice Cream Skittles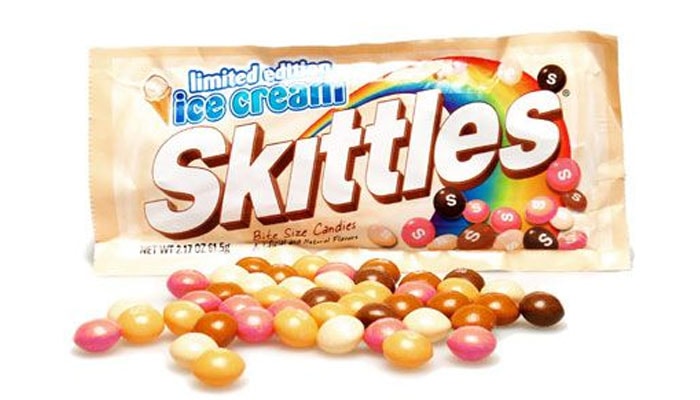 (wow, just wow. Combining two tasty treats into one was one of the best ideas that this brand ever made. This is a limited edition release – lucky are those able to try this treat out! We do hope that this gets rereleased soon – or better yet, made into a permanent product release for more people to enjoy!)
---
The Chocolate Movement
Enter the late 2000s, and Skittles decided to even level up their game by bringing in chocolate treats as part of their flavors. Introducing oh-so-amazing chocolate to their already impressive flavor choices, Skittles then entered a new phase of delight that will astound a large number of candy fanatics.
Related Other Americans Chocolate Brand Ghirardelli Chocolate – The Perfect Square Confectionary Treat
What makes chocolate Skittles such a hit is that it perfectly balances the tried-and-tested Skittles taste with delectable and yummy chocolate. After all, with Mars Inc. managing production (and their track record of creating impressive chocolate treats), the idea of integrating chocolate in the mix is indeed a great idea!
The candy manufacturer made sure that chocolate Skittles ingredients are of the utmost priority. As such, with the release of the Skittles Chocolate Mix, several new flavors have been introduced to maximize the taste explosion.
With s'mores, vanilla, chocolate pudding, brownie batter, and chocolate caramel, consumers definitely are in for an amazing and different sensation with this mix! To further expound on these new flavors, here are some bitesize information for each:
Brownie Batter – chocolate with a hint of cookie flavor, this candy will bring in the delight of biting into soft cookie batter (of course, in small or bitesize forms!)
Chocolate Caramel – aside from the soft taffy and perfect blend of caramel and chocolate flavors, this choice also comes with a hint of cotton candy taste in it
S'More – introduces a hint of graham cracker flavor – blends perfectly with the entire chocolate mix
Chocolate Pudding – a subtle cocoa flavor which balances the entire chocolate Skittles mix
Vanilla – a light taffy feeling, the taste that this candy exudes introduces a light and satisfying feeling
In fact, chocolate Skittles are such a hit, for this candy creates a whole new flavor experience that even hardcore candy fans will enjoy. Imagine this, the usual (and of course, always amazing) soft candy shell that Skittles candies have now come with a soft and tangy chocolate filling that melts and satisfies one's mouth! Only Skittles can do this – it is just that amazing, that you would definitely want to have more than one bag chowing down these treats!
Taste the Chocolate Skittles Rainbow Now
Of course, and just like other Skittles products, these candies are accessible and can be bought almost anywhere. For extra convenience, you can also buy at the chocolate Skittles Amazon store to choose which treat you'd want,
Whether you have a Skittles yellow bag or any other color, you can be sure that delight is within your palms with this treat! Let us know how amazing this candy is (we are pretty sure you'd enjoy Skittles chocolate variants) by leaving a comment below!
Other Skittles Chocolate Resources: